It's a dream come true for Dolf Dietrich: Today, he'll spend a session with Men on Edge. Sebastian and Jessie get to quick work on the stud, fitting his chisled body with ropes on a pool table. All the rope over his muscles has Dolf's throbbing dick ready to launch out of his boxers. Dolf loves having his nipples played with, so Sebastian teases and torments them with a hitachi while Jessie sucks him off. They suspend the stud above the ground and fuck his ass with a dildo. Dolf is just too eager to cum-- grunting, begging and then shouting for orgasm as he swings in the air. They take Dolf back to the billiards room and strap him down to the pool table for repeated edges with the fleshjack and vibrating sheath. As the day comes to end, they finally let Dolf's cock explode and douse his abs in hot cum. Dolf gets a generous taste of his own seed before Jessie concludes the day with a rough apple polishing.
Join Site!
Buy Shoot!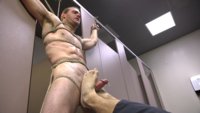 Jonah Marx is cruising the bathroom and notices someone in the stall next to him. Eager to blow his load, Jonah offers his cock to his neighbor but just before he blows his load he's taken down and hoisted up by his wrists. Blindfolded with a gag in mouth, Jonah's clothes are torn away as the pervy handyman has his way. Against his will, Jonah's brought to the edge of orgasm over and over before he's denied any pleasure. Bent over in the stalls he's fucked from behind with a machine before receiving a foot job. A cascade of cum shoots from Jonah's aching cock before he's tormented with a severe apple polishing to drive him wild.
Join Site!
Buy Shoot!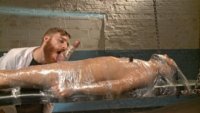 Dean Brody's minding his business at the meat factory when two strange health inspectors show up from "Oh-shuh," whatever the hell that is. Inspector Darkholme directs Inspector Keys to detain Dean while they give his personal hygiene a closer look. Dean has his clothes torn off with his body strapped down to slab of meat. He tries to fight off Keys's pawing hands on his dick when Darkholme silences him with a bit gag. Though he feels invaded by the touch of the inspectors, his dick can't help but stand at full attention. Soon, they have Dean immobilized and at their mercy while they suck his beefy cock to the edge again and again. They move Dean to the washing station and bring him just to the tipping point of orgasm-- right before hosing down his dick with icy water. Now that Dean's meat is tenderized and clean, Keys and Darkholme place him on a swinging platform and start packaging him in plastic wrap. Dean moans in his tight mummified wrapping as he receives repeated edges. The inspectors tickle his vulnerable dick before encasing his entire body, including his raging boner, tied with twine up to the ceiling. Keys finally feels generous enough to let the poor meat handler blow his load, but not without a painful torment immediately after.
Join Site!
Buy Shoot!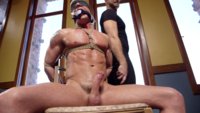 Lean, cut Rex Cameron arrives at the Armory to see if he can make it though an edging session with Sebastian and Jessie. Rex gets hard as soon as the ropes secure his body to the chair where he'll sit and try to deal with an onslaught of pleasure. Sebastian fits Rex with a blindfold to center the stud's mind on the sensation of Jessie's blowjob. He moans eagerly as Sebastian gags him with his precum-stained underwear. The two take a pair of hitachis and run it up and down Rex's shaft, edging him repeatedly. Sebastian switches the vibration for a fleshjack, driving Rex wild as he bucks his hips against his restraints. Rex takes a rough tickling before Jessie and Sebastian move him to the center of the room. With his arms and legs stretched from wall to wall, Sebastian adorns Rex's throbbing dick in rope while Jessie worships his balls. They move their attention to the stud's ass and plunge a dildo deep inside his hole. Edged over and over, Rex can't take any more of the treatment and begs to cum. The two finally let him blow a load as Sebastian handgags his face. Jessie gives Rex a handful of his thick load before he and Sebastian tickle his body all over.
Join Site!
Buy Shoot!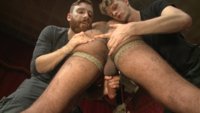 Vinnie Stefano is a beefy hunk of a man, and can't wait to have his muscles bound tight while Sebastian and Branden take full control of his dick. Vinnie bulges out from his harness as Sebastian fixes him to a pillar and Branden teases his package. With Vinnie firmly in place, they pull out hitachis and run them over his nipples and hard cock. Vinnie begs to cum as he fucks the two hitachis pressed against his cock, but Sebastian won't let him off easy. He places strong clamps on Vinnie's nipples and thrusts Vinnie's member into a fleshjack. Vinnie oozes precum while Branden's blowjob brings him to the edge. The two take Vinnie to a St. Andrew's cross for a better look at his meaty ass. Branden gives Vinnie a sloppy, wet rimjob; Sebastian switches pleasure for pain and drips hot wax all all Vinnie's cheeks. They flip Vinnie to face them and move down to worship his toes before getting a taste of his manly pits. Vinnie has the attention return to his cock as Branden blows him almost to orgasm several times. They finally decide to give the stud some relief, so Branden milks out a thick load onto his tongue. He gives Vinnie a messy taste of his own cum before he and Sebastian leave him on the cross to cool off.
Join Site!
Buy Shoot!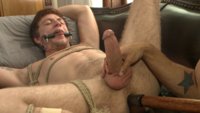 Logan Taylor feels a little nervous about his first time with KinkMen, but his anxieties turn to horny anticipation as he watches Jessie and Sebastian fit his body in rope. Tied to a chair on a spinning platform, Logan decides to enjoy the ride. Jessie slices off Logan's briefs to reveal a huge, throbbing cock and gets to work stroking it. The two spin Logan between another, taking turns tweaking his sensitive nipples and edging his thick member. Logan is ready to blow when they bring out the fleshjack, but Jessie pulls it away to leave Logan spinning and frustrated. Next thing Logan knows, he splayed out and gagged on a couch as Jessie sucks him to the edge. Logan has his feet worshipped and his ass filled with a dildo. Logan likes the fucking a little too much, so Jessie trades the dildo for a prostate massager and denies two more orgasms from the boy. Logan can't take much more of this torment as he begs to cum though his gag. Jessie finally relents and i'll descibe the cum here.
Join Site!
Buy Shoot!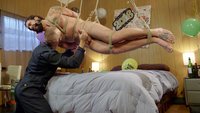 Dec 29, 2015 -

DJ
DJ wanted to cap off a wild New Year's weekend with one last party at the local motel. The delivery man, Jessie Colter, drops off the keg right on time, but won't leave. When DJ tells him to fuck off, he's quickly overpowered and tackled onto the bed. Jessie suspends DJ in the middle of the room, mouth gagged to keep anyone from getting too curious about his motel room. Despite the bound hunk's protests, Jessie strips him nude and works a boner from his uncut dick. He edges DJ relentlessly with his mouth and two hitachis before throwing him onto the bed. DJ gets a taste of nipple suction and a vibrating sheath before Jessie plows his ass with a vibrator and a beer bottle. The bottle leaves DJ's ass and goes straight into his mouth as Jessie edges him again and again. Finally, right before midnight, Jessie milks a hot load from DJ and punishes his sensitive cock head for good luck in the new year; leaving him behind, helplessly bound and covered in his own cum.
Join Site!
Buy Shoot!