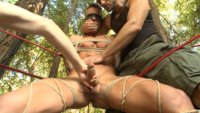 Sebastian and Jessie are out hitchhiking when they snag a ride from Damien Michaels. Damien doesn't trust Sebastian at first— but decides against his instincts. Huge mistake. Sebastian and Jessie carjack the stud, gagging and tying him up in his trunk. Damien tries to resist, but can't help but beg for an orgasm as he has his gorgeous cock teased and edged. The hitchhikers pull off the road and bind Damien in a circle of redwoods. There, the stud has his ass fucked with a vibrating dildo while Jessie sucks him off. With a prostate massager driving Damien to the edge, Sebastian chokes out the ripped stud as Jessie finally decides to let him blow a gigantic load. The stud gets a taste of his own cum before his captors take off with his car.
Join Site!
Buy Shoot!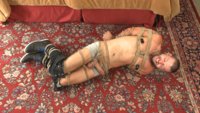 Jessie's got a new buddy named Tex Davidson. Tex has never been tied up before, so he takes the stud over to Van's studio. Jessie gets Tex's cock revved up as Van outfits Tex in a tight rope harness. Immobilized in ropes, Tex moans in agonized pleasure with each edge. Van cinches Tex's balls in twine while Tex tries to fuck Jessie's mouth to completion. It's no use, though, the day of edging has just begun. They bring Tex to the floor and get his cock throbbing again with nipple suckers and a deep blowjob. The intensity rises as Tex is blindfolded, gagged and bound spread-eagle on the bed. He receives the double hitachi treatment before a vibrating dildo in the ass. Van unwinds the cock rope to bring Tex even closer to the edge from Jessie's strokes. Jessie finally decides to the the stud cum, but not without a vicious tickling immediately after.
Join Site!
Buy Shoot!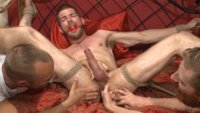 Jessie and Sebastian have chiseled stud Tryp Bates over for card games. The boys decide to turn up the fun with some strip poker, unfortunately for Tryp, luck isn't on his side. He's hesitant about losing his underwear, so the boys take him down and start playing a different kind of game. Tryp ends up bound and blindfolded, Sebastian cutting his boxers off to use as a gag while Jessie teases his cock. Though he didn't want to cooperate at first, Tryp soon accepts his torment with a rock-hard dick ready to explode. Sebastian and Jessie don't let him off so easy, edging him continuously with soft touches and hard strokes from a fleshjack. The guys pull Tryp down to the bed and tie his legs back, his asshole presented and ready. They pound his hole with fingers and a dildo, then change up the hot action with ice cubes into his hole for added torment. Tryp's cockhead oozes precum as he begs to cum. The afternoon of edging has his cock shoot a thick wad of jizz straight into his mouth before the guys finish Tryp off with a good ol' fashioned apple polishing.
Join Site!
Buy Shoot!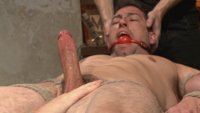 It's another typical day at the bank where Casey More works-- until Sebastian Keys and Christian Wilde come to rob the place. The two botch the job when they incapacitate the manager, but then they notice Casey More's ripped body. The criminals decide to have some fun with the teller, blindfolding Casey and binding him to the bank vault. He begs to be let go as his underwear is torn from toned thighs. Sebastian and Christian edge the helpless teller repeatedly, using a fleshjack and vibrating cock sheath on his massive, throbbing cock. As the cops finally close in on the bank, the robbers kidnap Casey to their dingy hideout. At the hideout, they have Casey face down ass up to play with his hairy hole. Sebastian rims Casey while he begs to cum from Christian jacking him off. They fuck his ass with dildos as the torment intensifies. Christian flips Casey over and painfully brings the captive to the edge before letting the horny captive bust a thick load. Sebastian feeds the cum to Casey right as Christian polishes the sensitive cock head for some post orgasmic torment.
Join Site!
Buy Shoot!
As Sebastian and Branden Forrest leave the bar at last call, they come across Tyler Rush slumped over with a bottle in hand. The two decide to keep the night going, so they drag the party boy to their warehouse. Tyler finally comes to, finding himself crucified from the ceiling and blindfolded. Sebastian and Branden taunt Tyler's poor decision making as they tease his cock and gag him with his underwear. Helpless to resist Branden's long tongue and Sebastian's hitachis, Tyler's dick quickly turns hard and drips precum. Tyler's muffled begging to be let go soon turns begging for an orgasm. Sebastian answers his pleas with more edging and a cropping, which only hardens Tyler's cock. Turns out they found a painslut in the alley. Tyler is brought to his knees and is made to suck Branden's dick before having his balls pulled by a cluster of weights. The edging intensifies as Sebastian and Branden move their attention to Tyler's ass. Tyler takes an electric dildo and a prostate massager into his hungry hole. Tyler's balls explode a shower of hot cum as Sebastian pushes the massager deep into his prostate. The two finish with a vicious apple polishing and leave the boy behind for later.
Join Site!
Buy Shoot!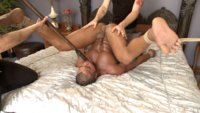 Micah Brandt has been watching Kink Men for years and says that he gets turned on because he's never done it before. Though he's edged himself in his personal life he's never been bound and been edged by another. We start with him tied up to the bed post while balancing on a stack of books. Jessie Colter tears Micah's underwear off with his teeth and plays with the ripped stud's pre-cum. In no time at all Micah gets pissed off by the teasing and sensory deprivation. He fucks Jessie's mouth with clamps on his balls but he's reduced to a whimper as Sebastian and Jesse leave him alone in the room. Next, bound on the bed, Sebastian and Jessie suck his toes while making Micah suck their own. In a piledriver position on the bed we fuck his ass with the vibrating dildo making him beg again and again. With Jessie's ass smothering Micah's face he continues to beg. After a full day of edging he rockets his huge load all over himself and receives the post-orgasmic tickle torture.
Join Site!
Buy Shoot!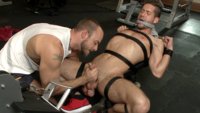 Kyle Kash is trying to work out at the gym when Jesse Colter and Sebastian start to perv on him. When Kyle blows off their advances he gets caught up in Sebastian's ropes and bound to the exercise equipment. They cut off Kyle's clothes and by the time they've stripped him down to his jock he's already rock hard. Kyle nearly cums while getting his nipples sucked so the boys slow down and keep him in suspense. They finger his ass while sucking him off and Kyle screams through his jock-strap gag when they deny him. Jesse and Sebastian continue their fun with Kyle bound standing while balancing on weights. They make Kyle suck on Jesse's cock while they edge him and then fuck his ass with the ShockSpot. Finally ready to see the gym stud's load they restrain him to a bench and blindfold him. With Kyle covered in his own cum they tickle him mercilessly and leave him to be found in his mess.
Join Site!
Buy Shoot!