Christian Wilde, Jackson Fillmore
on April 24 at 7:00 PM PDT
Welcome to our April Live Show here on Men on Edge with cute stud Jackson Fillmore as our main model. Christian Wilde will be assisting Sebastian Keys as they bring Jackson's hard cock right to the edge! This live show will start promptly at 7 pm PDT on Friday April 24th and will be available to stream for subscribed members. Non-members will still be able to watch PPM. Join us at 7pm as we bring Jackson right to the edge for your viewing pleasure!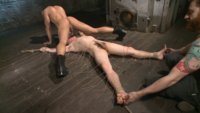 Jackson Filmore is passed out at home when Sebastian and Jesse decided they need a boy to torment and edge. After taking Jackson out of his home they bring him to their underground Boiler Room and tie him spread eagle on the floor, his body pressed to the floor with tight twine as he's edged repeatedly. Jackson begs to cum but with the bondage so tight he can barely squirm. Jesse feeds him his cock while Sebastian licks his feet and Jackson can't contain himself, but Sebastian denies him again and again. Tied to the boiler, Jackson gets turned around for an ass fuck by the vibrating dildo that nearly shoots a load out of him. Fully suspended from the giant device he gets another fuck that makes him cum but it's the post-orgasm torment that really sends him reeling.
Join Site!
Buy Shoot!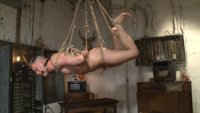 Sebastian just wants to have a quiet night in at home, but Derek Scott arrives instead to deliver an eviction notice. Unwilling to be pushed around by some arrogant suit, Sebastian captures Derek and decides to teach the rude guest some San Francisco hospitality: a whole night of cum denial. Derek soon finds himself bound, blindfolded and gagged with duct tape as Sebastian strips him down. Sebastian works Derek's cock almost past the edge with a vibrating sleeve before treating him to a double hitachi torment and vicious tickling. Still not allowed to cum, Derek gets hogtied on Sebastian's coffee table, his hole played with and toes sucked. Sebastian suspends Derek in the middle of the living room, spinning him around with a prostate massager firmly lodged in Derek's tight ass. Derek's pleads for an orgasm, and finally blows a huge load— right before Sebastian uses his mouth to deliver a punishing post-orgasmic torment.
Join Site!
Buy Shoot!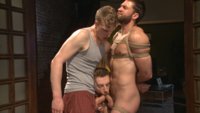 It's a friday night here in San Francisco and we have Abel Archer joining us for our Live Men on Edge. After we chat with the members, Abel's taken to the living room, stripped down to his underwear as Sebastian starts tying him up and teasing Abel's eager cock. Before long Branden Forrest joins in on the fun, whipping out his big 9 inch dick as Sebastian shoves both cocks in his mouth. Our bound stud is suspended in a hogtie as we fuck Abel from both ends with dicks on sticks. Over on the couch we bend Abel over to swallow more cock while the Shockspot fucking machine drives into his hole. While sucking on Abel's toes we jack his cock off and bring him right to the edge before shoving a vibrator up his ass. The intense vibrations are too much for Abel and without even touching his cock he shoots a massive load onto his stomach.
Join Site!
Buy Shoot!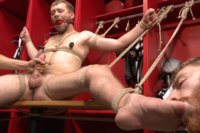 Van and Sebastian are sparring on the mat when they see sexy janitor Nathan Martin on his rounds. They lure Nathan over as he volunteers to show them some wrestling moves. Just when Nathan thinks he's teaching something useful for the mat, Van and Sebastian turn the tables. They lock Nathan into tight wrestling holds and get to work on his cock. Nathan begs to cum while Van and Sebastian bind him in in the center of the ring and edge him over and over. His balls wound tightly and bulging, Nathan is ready to blow, but his captors want some more fun. They take him into the locker room for a second round of cum denial. Sebastian takes Nathan's balls to the limit with a fleshjack and his mouth. Van tags into the match, jerking Nathan while Sebastian worships the frustrated janitor's toes. They toy with Nathan's tight hole and treat him to a vibrating dildo and a prostate massager. The two finally allow Nathan to cum, and he eagerly accepts with geyser of jizz. The afternoon of prolonged edging still leaves Nathan horny with a raging hard-on, so he gives an encore load.
Join Site!
Buy Shoot!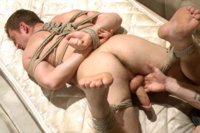 Officer Connor Maguire is on the beat at the Armory, this time subjecting a graffiti spraying punk to a full cavity search. Sebastian walks in on the hot interrogation and gets a little inspiration from the sight of the new hunky guard. Sebastian binds Officer Maguire to a chair and subjects him to continuous edging and tormenting his nuts with the ball crusher. Sebastian hogties the officer in a padded cell and keeps denying that thick cock while worshipping Connor's feet. Officer Maguire gets flipped over and is introduced to the electric butt plug for the very first time. With his prostate buzzing, Officer Maguire finally gets permission to cum and blows a hot load before he screams for mercy from tickle torment.
Join Site!
Buy Shoot!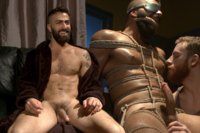 Adam Ramzi is ready for a quiet night in his own home, but Sebastian hasn't forgotten him from the gym and is lurking outside. Sebastian watches as Adam undresses and jerks himself off. When he falls asleep Sebastian and Van sneak in. Adam awakens bound to a chair and at the mercy of Sebastian. He's edged repeatedly with a gag and begs to cum as Sebastian blows him. Hogtied on the bed he gets a dildo in his ass and the pressure on his prostate drives him crazy. After a full night of edging and tickling the hot stud Sebastian finally lets him blow his load and polishes his cockhead.
Join Site!
Buy Shoot!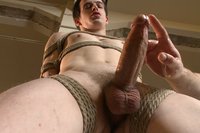 Brian Strowkes is a hot straight guy willing to try anything once. With Brian bound standing and blindfolded we get his cock raging under his briefs. It doesn't take long for the straight guy to want to shoot his load as he fucks Sebastian's mouth. We check out Brian's 22 year-old hole and fuck it with a dildo. With his cock still hard as a rock we nearly fuck the cum out of him but deny him repeatedly just to hear him beg. Fully suspended we edge him to the max and continue to fuck his ass with the vibrating dildo. Unable to take anymore he shoots his load all over, and we finish him off with a good cock polishing and tickle torment.
Join Site!
Buy Shoot!