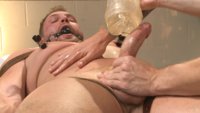 Officer Josh Peters can't stand perverts. When he receives a case on a sketchy massage parlor run by Sebastian Keys and Christian Wilde, Peters goes undercover to investigate. Sebastian and Christian creep on Officer Peters as he strips down to his underwear for his massage. They spot his badge and hatch a scheme to capture and edge the officer. As they rub and knead Peters' ass, they reveal the ruse and strap him to the table. Now at the perverts' mercy, Peters can only moan as Sebastian and Christian run their hands all over his cock and feet. They plow his straight ass with a vibrator, leaving the cop begging to cum. Now flipped over, gagged and with his nipples adorned with clamps, Sebastian offers a special cock massage and works the stud with a fleshjack. Just as Officer Peters is about to blow his load, Christian rips the clamps from Peters and joins Sebastian in tickling their captive all over. They bring Peters back to the intake and bind him in ropes and bamboo. No longer thinking of anything but shooting a wad of thick cum, Josh fucks two hitachis held by Sebastian and receives more painful edges. With the massage drawing to a close Sebastian finally decides to give the muscled hunk his happy ending and milks out a gallon of hot jizz. The relief is short lived for the officer, however, as Sebastian quickly rubs down his sensitive cockhead while Christian holds him down. The pervs taunt Officer Peters as they walk out, daring him to bring more of his cop buddies for another session next week.
Join Site!
Buy Shoot!
Wearing a tight singlet, Rikk York runs through some wrestling drills at the gym when Jessie Colter comes by for practice. Agreeing to spar, Jessie takes Rikk down to the mat in seconds his giant cock is bulging out of his singlet. Embarassed, Rikk tries to fight Jessie off, but Jessie's leg lock is just too strong. Jessie takes advantage of the situation to tie up Rikk right on the mat and admire his throbbing cock. Rather than struggle, Rikk squirms to get his rocks off as his toes get sucked off while his cock is brought to the edge with a vibrating sheath. Just as Rikk is about to blow, Jessie tickles his pits and toes viciously and moves him to a suspension. Rikk hangs by his wrists while Jessie pulls on his sensitive nipples and sucks his cock. With Rikk's ass on display, Jessie admires his hairy hole and fucks it with a vibrator, making Rikk drool & moan through his gag. Jessie trades the vibrator for a prostate massager and jerks a hot load from Rikk. Grateful to finally blow, Rikk accepts a handful of his own cum. For a final victory lap over his sparring partner, Jessie torment's Rikk's still sensitive cock and leaves him hanging for the janitor to find.
Join Site!
Buy Shoot!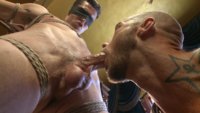 Logan Stone is a hot electrician who loves getting edged. He joins Jessie and Sebastian for a session in the Armory, where they waste no time in stripping Logan to his skivvies. The outline of Logan's cock bulges prominently as Sebastian ties Logan across the front of a four-post bed. Jessie gets a taste of Logan's meaty nipples and moves to his massive dick. With Logan blindfolded, Jessie holds out a fleshjack for Logan to fuck to completion, if only he could find it. Logan's cock chases the toy, finds it, and finally brings himself to cusp of orgasm -- right before Jessie tears it away. Sebastian repeats the torment with a vibrating sheath, bringing Logan to the edge and then tickling the stud at his most vulnerable moment. Jessie and Sebastian move Logan to the other side of the room and invert him. Logan has his tender cock sucked as he receive nipple suckers and a bit gag. Begging to cum through the gag, his tormentors plow his ass with a dildo before tying it off to his leg and making the stud fuck himself with it. Logan finally receives their permission to cum and blows a load all onto his face. Still in a daze from cumming, Logan is perfectly vulnerable for the last piece of torment. He twists and fights against his restraints as they tickle his body and polish his sensitive cock head.
Join Site!
Buy Shoot!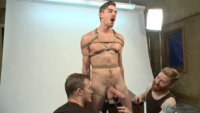 Jack Hunter arrives at the Armory on a brisk autumn day for an audition and photo shoot with KinkMen. Liking what they see through the lens, Sebastian and Christian start playing with Jack. He has his lean body bound in tight ropes as his erection tries to fight its way out of his briefs. Sebastian presses his hitachis against Jack's giant cock, bringing the stud to the edge of an orgasm before taking the toys away. Christian pulls Jack onto a platform box and admires the hard dick standing at full attention. After a round of edging, Jack and Christian return to the green room for a break.

Jack starts feeling a little funny after the bondage. Next thing he knows, he's bound to the wall of a dungeon as Christian and Sebastian work their hands all over his body. As he moans and grinds against his bondage, Jack takes a dildo deep inside his hole. Sebastian edges Jack with a hollowed out pumpkin in the spirit of the season. With his huge cock impaling the entire pumpkin, Jack nearly blows it as the vibrating sheath fits over his cock head. Finally deciding to let the stud cum, Christian milks a hot load from Jack while Sebastian holds a vibrator deep within his hole. Fresh from cumming, the torment resumes as Sebastian jacks the sensitive cock once more with the pumpkin.
Join Site!
Buy Shoot!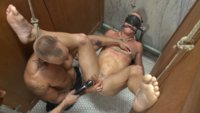 Sebastian and Jessie are fixing a public restroom when they come across Scott Riley, a hot stud fresh out the Army. The temptation to play with the boy is too much for these pervs, so Jessie whips out his cock and they take Scott down. Scott hangs horizontally from the ceiling -- and at the mercy of Sebastian and Jessie -- as they tear the clothes from his body. Scott's dick rages while Jessie worships Scott's balls and Sebastian works hitachis up his shaft and over his nipples. To their delight, Scott turns out to be a cock hungry slut. The boy greedily sucks Jessie as Sebastian edges him. After tickling Scott to prevent a close orgasm, the two strap him down to a stall and get back to work on his cock. Scott moans through a bit gag with each edge, grinding his hips into the hitachis and begging to cum. His ass gets plowed by a plunger and vibrating dildos before Sebastian and Jessie finally allow Scott to cum. But, of course, Scott has to pay for such a privilege. He takes the load into his mouth and receives a brutal torment on his sensitive cock. Jessie gives Scott one more tickling and leaves the boy in his mess.
Join Site!
Buy Shoot!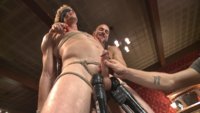 Daniel Lament is a tall glass of French-Canadian water, and he's here with Men on Edge today for his first ever session in ropes. Fascinated and horny with all the toys in the Armory's Upper Floor, Daniel touches himself while Jessie gives him a tour. Sebastian shows up and the session begins as Daniel is lead to the wedge and tied down. The two take their time with Daniel, sensually admiring his lean body before blindfolding him and freeing his dick out from his briefs. Daniel pulls against the ropes and humps Jessie's face as he sucks the stud to an edge. Just when Daniel thinks he's at the height of pleasure, Sebastian brings out two hitachis on stands and places them right under Daniel's balls, taking him to the edge yet again. They move Daniel to a sawhorse and suspend his ankles from the ceiling, leaving his ass open and ready for a dildo deep inside. Daniel's dick is ready to explode as the dildo jams his prostate, each thrust building more pressure. Daniel can't take much more of the treatment and prematurely shoots a small load, but soon begs for a full blast. Jessie and Sebastian oblige, and a volcano of cum erupts from Daniel's dick. Just as he's coming back to earth, Jessie and Sebastian tickle and torment Daniel's overstimulated body to finish as he curses in French.
Join Site!
Buy Shoot!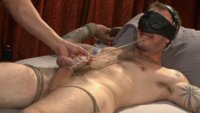 With Christian Wilde as a model sub, Van Darkholme shares his expertise in bondage and edging in front of a live audience. He walks through practical rope work for chairs and beds, binding Christian and with the help of Jessie Colter, working a throbbing erection from the horny stud. Christian reveals to the crowd that he hasn't cum in three days as he moans and squirms in his ropes with each edge. Van then moves to a live Kinbaku demonstration, sensually binding Christian in a suspension. With Jessie teasing Christian's cock along the way, Van guides Christian through different positions and suspensions. After an aerial edge with Van hanging from Christian's swinging body, Van finally decides to allow Christian to cum. With three days of cum built up, Christian busts a huge load to the approval of the crowd.
Join Site!
Buy Shoot!