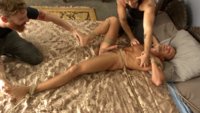 Southern stud Rob Ryder is a hot bi guy who has never been tied up and edged, so Jessie and Sebastian decide to treat him to a full session. They strip Rob to his underwear and secure him to a chair, making sure his hands can't go anywhere near his dick. By the time Sebastian finishes the ropes, Rob already has a raging boner. They blindfold the boy to heighten the sensations of their tongues running over his cock and nipples. Using the fleshjack, they ramp up the edging, leaving Rob begging to cum. But Jessie and Sebastian aren't done yet. Rob gets introduced to two hitachis and Jessie's mouth, nearly blowing his load. They move Rob to the bed and tie his limbs off to the bedposts. Lying spread out on the bed, Rob has his toes worshipped and asshole explored. The vibrating cocksheath has Rob dripping with precum before Sebastian tastes Rob's hole as Jessie sucks him off. Deciding to finally let the boy cum, Jessie and Sebastian milk a thick load from Rob before a brutal tickling and cock torment. They fit the cock sheath back on Rob's sensitive dick and leave the room as he struggles against his bondage.
Join Site!
Buy Shoot!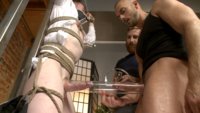 Jack Redmond is out spreading the good word of the Mormon Church when he knocks on Jessie and Sebastian's door. Unknown to him, those pervs were in the middle of trolling the internet for some ass. They take Jack inside and capture the boy, binding him to the stairs and stripping away his uniform. Despite his pleas, Jessie and Sebastian edge Jack's cock to a dripping faucet of precum. They bring his package to attention with two hitachis, and swell his cock and nipples with a pump, Jessie sharing in the suction. The two take Jack over to the bed and introduce the missionary to the world of anal penetration, enrolling him in an accelerated course involving two dildos and then a massive Bad Dragon in his hole. Jessie milks a thick load from Jack and has him taste his own cum. Sebastian decides to peel away for a hookup, but Jessie's still got Jack all to himself for later.
Join Site!
Buy Shoot!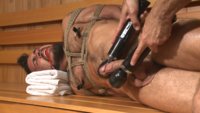 Aarin Asker's cruising in the gym when he comes across Jessie Colter taking a steamy shower. Jessie notices the curious stud groping his crotch and makes his way over to the lockers slowly, sizing Aarin up. The two start making out and exploring each others cocks when Jessie decides to make the showers steamier. Pulling rope from his locker, Jessie secures Aarin across the bench, legs spread wide. Aarin moans in the rope harness as Jessie strips the clothes from his ripped body, licking his feet and slowly moving toward his crotch. Jessie repeatedly teases Aarin's throbbing cock, bringing it so close to the edge again and again with his hands, mouth and vibrating cock sheath. Jessie moves his attention to Aarin's hole, finding it eager and hungry. Aarin takes a full fist in his ass as he begs to cum. Not yet finished, Jessie brings Aarin into the sauna and continues the edging, each one more tormenting than the last. Aarin begs to cum through a ball gag as his cock receives a massage from two hitachis. For all he's taken today, Jessie finally decides to grant Aarin an orgasm and milks out a rich load from stud. Just as Aarin moans in relief, he feels the pain of an apple polishing before he's left in a cumdrunk daze.
Join Site!
Buy Shoot!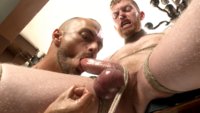 Today for Men on Edge we brought in Cass Bolton for a hot and heavy edging session. Sebastian and Jessie get straight on work on the jock, tying him tight to the windows and having his massive cock and balls bulge from silicone rings. Jessie's mouth and a double hitachi treatment gets Cass moaning for an orgasm, but the two won't let him cum that easy. The boys flip Cass around and fuck his ass with an electrostim vibe and give the painslut a little taste of the flogger. Next, Cass is bound to a chair, a rope from the floor squeezing his balls. The boys worship Cass' feet before moving their attention back to his crotch. Jessie provides some CBT while Sebastian teases Cass with the vibrating sheath. At long last, Sebastian and Jessie feel generous enough to let Cass cum, but not without a cruel post-orgasmic torment and flogging.
Join Site!
Buy Shoot!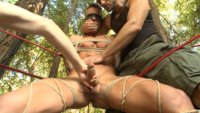 Sebastian and Jessie are out hitchhiking when they snag a ride from Damien Michaels. Damien doesn't trust Sebastian at first— but decides against his instincts. Huge mistake. Sebastian and Jessie carjack the stud, gagging and tying him up in his trunk. Damien tries to resist, but can't help but beg for an orgasm as he has his gorgeous cock teased and edged. The hitchhikers pull off the road and bind Damien in a circle of redwoods. There, the stud has his ass fucked with a vibrating dildo while Jessie sucks him off. With a prostate massager driving Damien to the edge, Sebastian chokes out the ripped stud as Jessie finally decides to let him blow a gigantic load. The stud gets a taste of his own cum before his captors take off with his car.
Join Site!
Buy Shoot!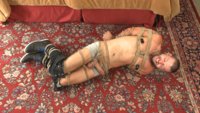 Jessie's got a new buddy named Tex Davidson. Tex has never been tied up before, so he takes the stud over to Van's studio. Jessie gets Tex's cock revved up as Van outfits Tex in a tight rope harness. Immobilized in ropes, Tex moans in agonized pleasure with each edge. Van cinches Tex's balls in twine while Tex tries to fuck Jessie's mouth to completion. It's no use, though, the day of edging has just begun. They bring Tex to the floor and get his cock throbbing again with nipple suckers and a deep blowjob. The intensity rises as Tex is blindfolded, gagged and bound spread-eagle on the bed. He receives the double hitachi treatment before a vibrating dildo in the ass. Van unwinds the cock rope to bring Tex even closer to the edge from Jessie's strokes. Jessie finally decides to the the stud cum, but not without a vicious tickling immediately after.
Join Site!
Buy Shoot!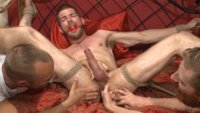 Jessie and Sebastian have chiseled stud Tryp Bates over for card games. The boys decide to turn up the fun with some strip poker, unfortunately for Tryp, luck isn't on his side. He's hesitant about losing his underwear, so the boys take him down and start playing a different kind of game. Tryp ends up bound and blindfolded, Sebastian cutting his boxers off to use as a gag while Jessie teases his cock. Though he didn't want to cooperate at first, Tryp soon accepts his torment with a rock-hard dick ready to explode. Sebastian and Jessie don't let him off so easy, edging him continuously with soft touches and hard strokes from a fleshjack. The guys pull Tryp down to the bed and tie his legs back, his asshole presented and ready. They pound his hole with fingers and a dildo, then change up the hot action with ice cubes into his hole for added torment. Tryp's cockhead oozes precum as he begs to cum. The afternoon of edging has his cock shoot a thick wad of jizz straight into his mouth before the guys finish Tryp off with a good ol' fashioned apple polishing.
Join Site!
Buy Shoot!